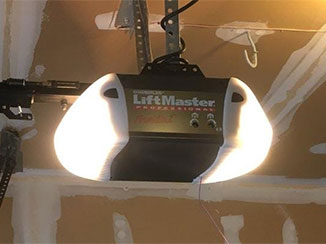 All sorts of problems can inflict your automatic opener, from broken gears to circuit board issues to even misaligned safety sensors. Whatever the issue may be, you most likely will need professionals to lend you a helping hand. That's what our team is here for.
Problems You May Encounter
For all their security and convenience benefits, automatic garage door openers aren't without their problems. There are mechanical malfunctions, like a broken trolley carriage or a snapped chain drive, and then there are electrical issues, like circuit board glitches and remote control miscommunication. While some minor things can be handled with a quick online search, more complex problems will require that you get help from a professional technician with the right skills and experience to get the job done quickly and safely. Our team has over a decade's worth of hands-on experience repairing and installing garage door openers, and there's no type of problem we can't expertly handle.
Choosing a New Model
If you decide it's time for you to upgrade your old motor unit and have it replaced with a modern opener model, we'll be happy to help. Our experts can help you decide between the different drive system choices and will explain the benefits and potential disadvantages that each one may present. For example, chain drive units are very strong and affordable, but also loud and require frequent maintenance, while belt drive models are virtually silent, but can be more expensive. We'll also make sure you don't neglect to think about the different added features that a new opener can offer you, like smartphone connectivity and rolling code technology. Rest assured that with our help and guidance you'll end up getting a new motor unit that will be a perfect fit for your garage.
Give Us a Call
In addition to emergency repairs and installation services, we also provide regular opener maintenance appointments, during which we will lubricate the different moving parts of your entire door system, including the chain or screw drive (if you have either one). We'll also carry out a few important safety tests that will help to ensure that the alignment of the safety sensors is correct and that the auto-reverse mechanism is fully functional. Contact our team at Garage Door Repair Danville today to get all the help you need.
Need more? We also provide:

Roll Up Garage Door Services

Garage Door Tune Up Services

Opener Sensor Replacement

Garage Door Weather Stripping